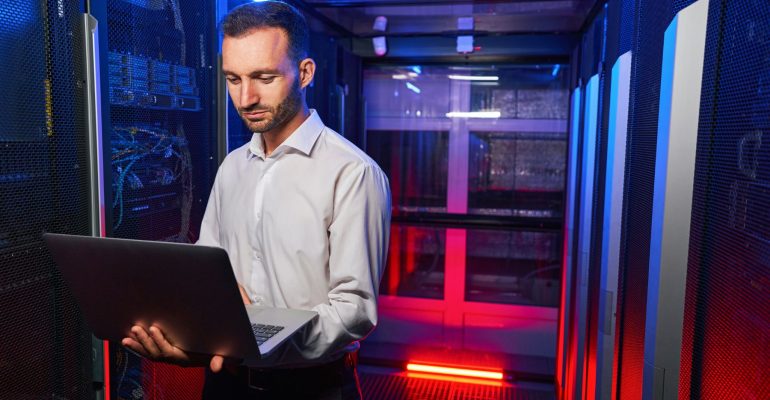 What is shared hosting?
Photo by Iakobchuk On Envato Elements
Shared hosting is the way in which different pages share hosting resources. This means that the total capacity is going to be divided among the different users who have paid their part to be able to host the content there for the operation of their site.
We can say that this is useful for a web page that does not need too many resources.
For example, a website that has recently started and that does not have excessive visits makes it necessary to have a series of resources to be able to deal with web traffic and that does not stop providing service or work poorly.
However, even if the resources are shared, each page is totally independent. Webmasters can install plugins for their sites, configure them however they want, and have control over the content. Of course, everything that this server includes, the hardware that allows it to function, will also be used by other users.
With shared hosting, the RAM, the CPU, and the equipment itself will be divided for everyone. Therefore, if a user needs more resources, they could opt for a dedicated server.
RAM, for example, is going to be used by everyone at the same time and this could lead to performance issues.
Advantages of a shared server
First of all, we are going to see what are the main advantages of using a shared server. This way we will know if it is really worth it and if it adapts to what we are looking for.
Keep in mind that not all users will need the same thing for their website:
Cost savings: a clear positive point is the cost. It is cheaper than hiring a dedicated server. After all, we are sharing the resources with more users, although this will not necessarily imply a decrease in quality if our site does not require something extraordinary. It may be ideal to start a modest website and for which we do not want to make a large investment.
Maintenance by the provider: we will also avoid having to take care of maintenance and solutions to possible failures that appear.
All this will be borne by the company with which we have contracted the server. It is a way to free ourselves from work and complications.
Ease of use: you do not need a great experience to be able to use this type of service. The handling is simple if we compare it with other options, in addition to having our private access to be able to manage everything quickly. Once again, it is interesting for beginners who just want to create a simple website.
Wide variety of tools and configurations: it is normal that the provider itself also offers a series of tools that we can use, as well as configurations that we can take into account. In this way, we can more easily configure our website without having great knowledge.
Scalable: we can adapt shared hosting to our needs.
We can start with a basic plan that has fewer resources, but if our website requires something higher, over time we can hire another plan that offers better conditions in terms of performance.